FULLY BOOKED UNTIL MAY 2024!
Booking for new catsuit workshops will open in January 2024.
(From November 2023 to April 2024, I'll be doing numerous two-day corset, dress, and harness workshops. If you're interested, feel free to check for availability!)
Don't miss the opportunity to learn making your very own 'made-to-measure' latex catsuit! The price is approx 1200 EUR per person (depending on exchange rate). This cost is roughly equivalent to two custom-made catsuits, but you also get the base pattern to take home, and acquire the skills to make countless catsuits by your own in the future!
Please note that this course has no secrets or shortcuts! You'll have to suffer your way through every step of the process and put in the effort to learn everything thoroughly. Starting with nothing more than zippers, glue, and latex sheeting on rolls, you'll end up with an entirely self-made, production-quality, chlorinated latex catsuit!
The course lasts seven (7) days, and the fee covers materials, lunch, dinner, and snacks.
The courses will always have two participants. This allows us to offer workshops at a reasonable price and creates a social and enjoyable environment. I typically ensure a minimum 50/50 gender distribution, which means I rarely do men-only workshops. If you're a woman and would prefer to participate in the workshop with another woman, kindly let me know.
For couples, the total price is approx 2400 EUR (depending on exchange rate). In many cases, both the husband and the wife would like to make a catsuit for the wife. She therefore gets two catsuits, usually in different colors, and no catsuit is made for him. In these cases, we only make a single pattern instead of the usual two, which frees up one day. If time and energy allow, this extra day can be used to make a dress or top instead.
Payments must be made at least 14 days in advance via bank transfer, IBAN, Paypal or Vipps. If you would like to buy a certified gas mask from me there's an additional cost of approx 50 EUR.
Before booking a workshop I ask that we do a lighthearted 'crazy check' (haha!) via Teams, Discord, or similar. The purpose is to align expectations, go through the course curriculum quickly, and ensure we aren't (too) crazy for each other's liking.
Scroll down for more information…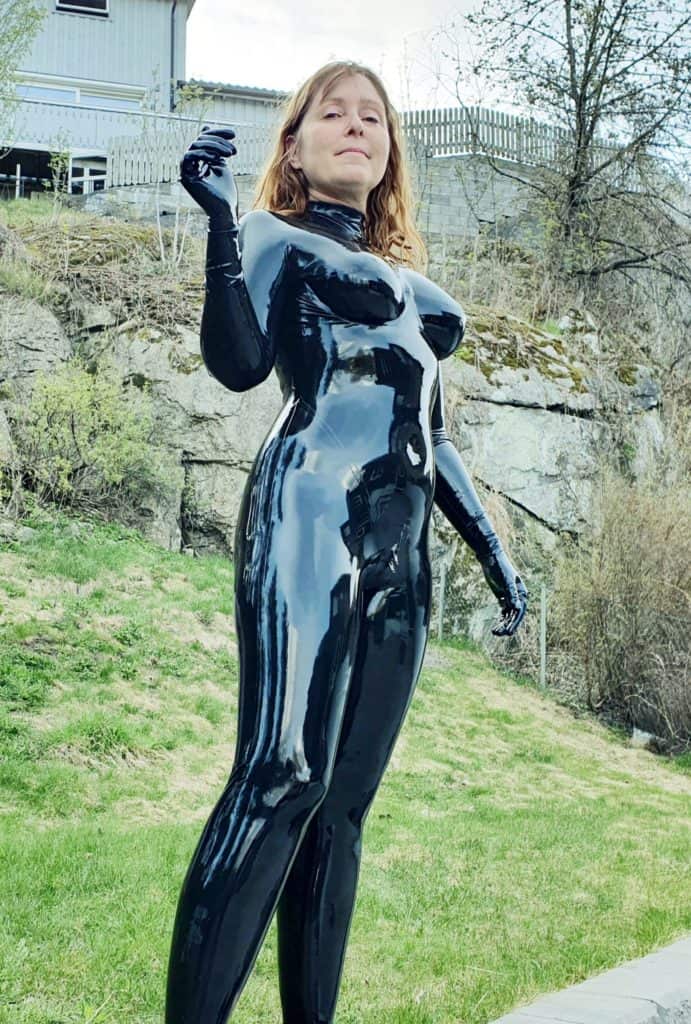 Quick notes about me: I'm an eccentric (i.e. rather nuts) guy in his mid-40s who has been making latex clothing as a hobby since 2007. Despite my weird interests, my daily life is quite normal if not a bit boring since I don't party, smoke or drink, and being generally as straight as an arrow. I guess growing up in a very conservative family in the darkest corner of the bible belt on the Norwegian west coast left its marks. And since so many people are asking, my day job is as an engineer in a major international consultancy firm.
Because of time constraints, I only make latex gear for customers on a somewhat limited if not semi-sporadic basis. I have a demanding full-time job, 50% kids exercise regularly, take care of house & garden, and attend to my bratty rubberdoll. Most of my "latex time" is spent on product development and making naughty outfits for my doll, see photos. As a result, I'm always behind schedule on production orders for others (haha!).
To address the issue of long delivery times, I started offering "Make your own catsuit" workshops back in 2020. The purpose is to fulfill your desires for new latex clothes without having to wait for months, as well as spreading this unique hobby among latex enthusiasts like yourself.
The workshops always have two participants and takes on a more collaborative approach rather than a traditional course. I provide all the necessary latex sheeting, zippers, glue, and tools to first make a test catsuit (prototype) and then a production-grade catsuit. It should be noted that the first catsuit is made only for testing purposes and isn't really usable afterwards. The main selling point of this workshop is not that you make those two catsuits mentioned above (prototype + production-grade), but that you take the base pattern and skills with you home, allowing you to make countless more catsuits in the future!
The process has three main steps:
a) Take body measurements and make the pattern from scratch.
b) Make the test catsuit (prototype), adjust the fit, and update the pattern.
c) Produce the final production-grade catsuit.
More information follows under the pictures…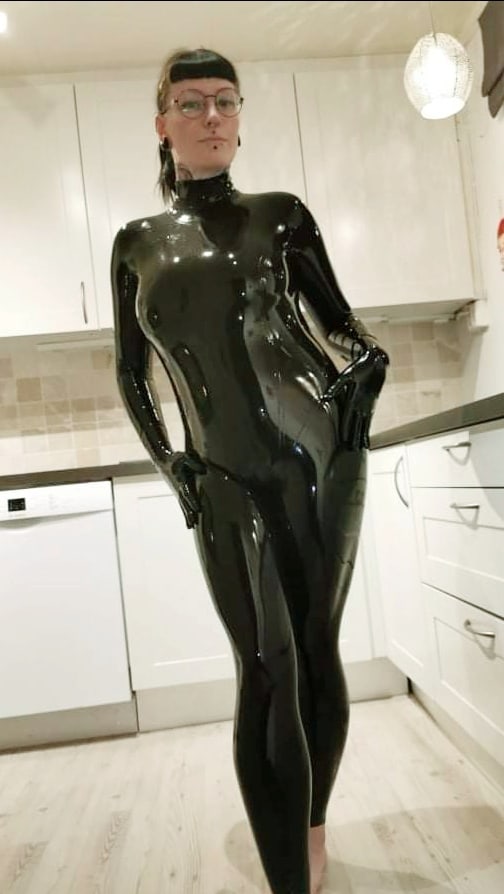 For beginners, the course typically takes 70-80 hours to complete. We work standing up (on our feet) for 12 hours per day, and up to 16 hours if we fall behind schedule. As a result, the course is quite demanding both mentally and physically.
I'm quite flexible when it comes to the workshop schedule. While we can do all seven days in one go, I would not recommend this unless you are exceptionally motivated and skilled. The best approach is to allocate nine days in total, with seven of those spent in the workshop and having two days as breaks. This means you'll start with three days in the workshop, one day's break, another two days in the workshop, another break, and then the final two days in the workshop.
Recommended workshop schedule:
Day 1: Measure both participants, this takes around 90 minutes per person and involves 70+ body measurements. Finish the pattern for participant #1 and start making the pattern for participant #2. Making patterns from scratch usually takes 8 to 10 hours each.
Day 2: Finish the pattern for participant #2. Both participants then start cutting latex, rubberize zippers, and practice gluing.
Day 3: Both participants finish the prototype catsuit. We take every possible shortcut to have something to test-fit by the end of the day.
Day 4: Break.
Day 5: Adjust the catsuit fit and update the pattern for both participants.
Day 6: Continue adjusting the catsuit fit and update the patterns for both participants.
Day 7: Break.
Day 8: Both participants start making the final production-grade catsuit. This garment takes longer to make than the prototype since we take no shortcuts. The focus is on making a top notch quality catsuit!
Day 9: Complete the production-grade catsuit, chlorinate it, and take photos with your camera.
The men's pattern uses princess cut and gymnast block. The catsuit is made from regular 0.40mm latex, with a continuous and visible YKK #5 zipper running from the lower back through the crotch to the front neck. The difficulty level for this pattern is MEDIUM.
The women's pattern uses princess cut and gymnast block. The catsuit has separate and hidden zippers in the crotch area and the back. The difficulty level for regular 0.40mm latex is MEDIUM, and ADVANCED when working with thin 0.25mm latex. For women's catsuits I recommend 0.25mm latex.
The alternative women's pattern is known as the 'Big Boob Catsuit' (BBC), featuring shaped breasts and steel underwires. These catsuits are labor-intensive and not recommended for beginners. They are made to enhance the natural breasts but can also use silicone implants to increase volume. The pattern can also be made for for men, but requires that you provide your own implants.
Remember to bring the following to the workshop:
Protective mask (brown filter), for example 4255 (FFA2P3D). Can be purchased at Clas Ohlson, or directly from me.
Thick woolen socks.
A bag of fridge-tempered Bamsemums.
You need:
An awful lot of patience.
Fundamental art skills.
Cool/twisted/bad/sick humor.
PRACTICAL INFO
I typically work standing up (on my feet) because it's healthier, but if you prefer to have a chair then that's fine. However, you will be using 2.5-3 meters of work surface, and it is more practical to work in a standing position.
My workshops are alcohol-free, smoke-free and I have no pets.
BEARD / FACIAL HAIR
For safety reasons, it is important to shave all facial hair when wearing a gas mask. Beards create a small gap between the mask and the skin, allowing fumes from the glue to pass through. For proper protection, it is recommended to be clean-shaven every day.
NEED A PLACE TO STAY?
Are you living some distance away and need a place to stay? Then I'd recommend AirBnB. Usually, there are one or two available within walking distance, and sometimes on the same street! Simply search for Myrvollveien, Norway (south of Kolbotn) on AirBnB. The prices are typically 50-150 EUR per night.
You also have the option to stay at a hotel in central Oslo or in the small town of Ski. Public transportation is pretty good around Oslo. I happen to live within walking distance of the train station, which is a 12-minute walk from Greverud station. The train ride takes 22 minutes from Oslo and 10 minutes from Ski.
Here are some pictures from previous courses…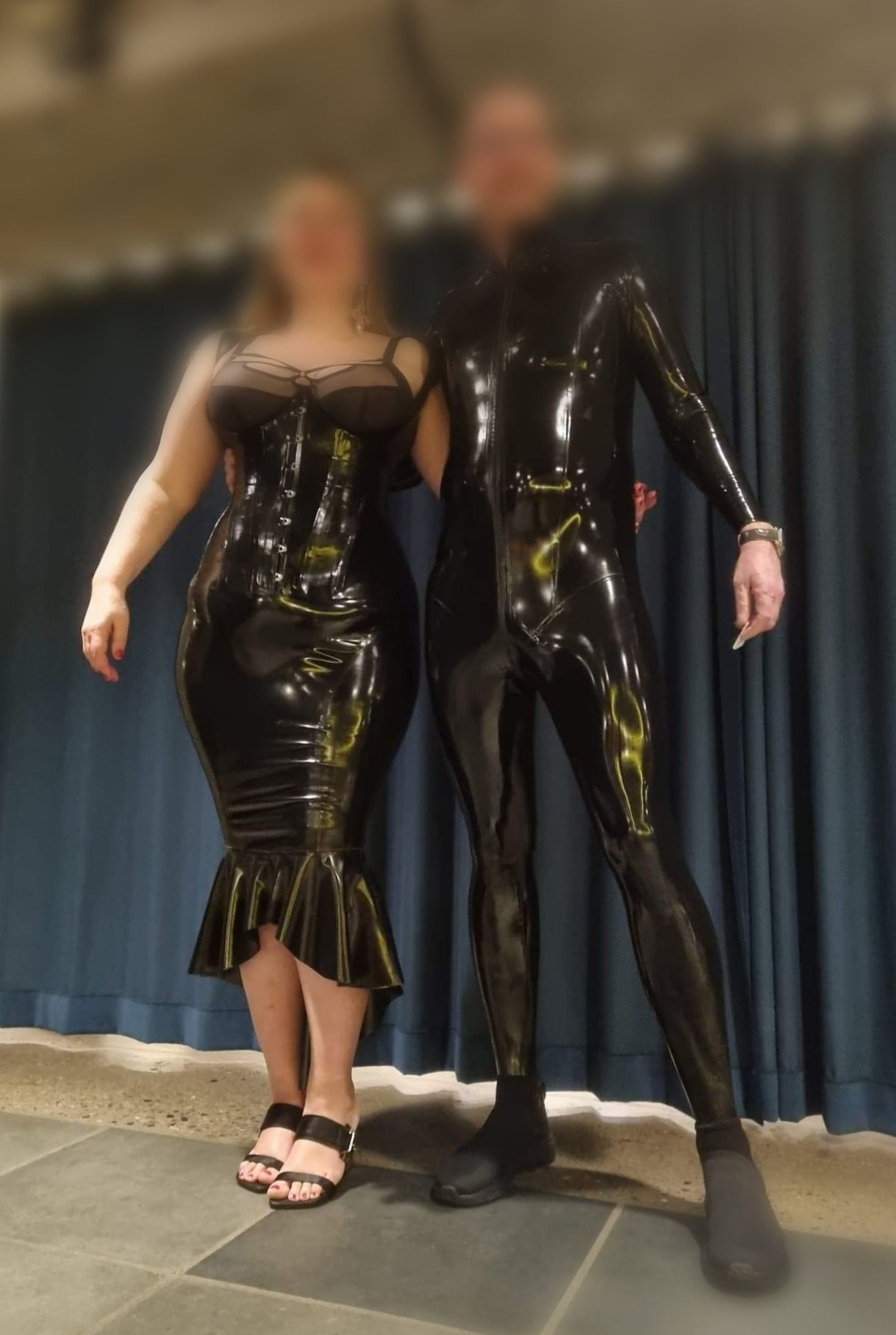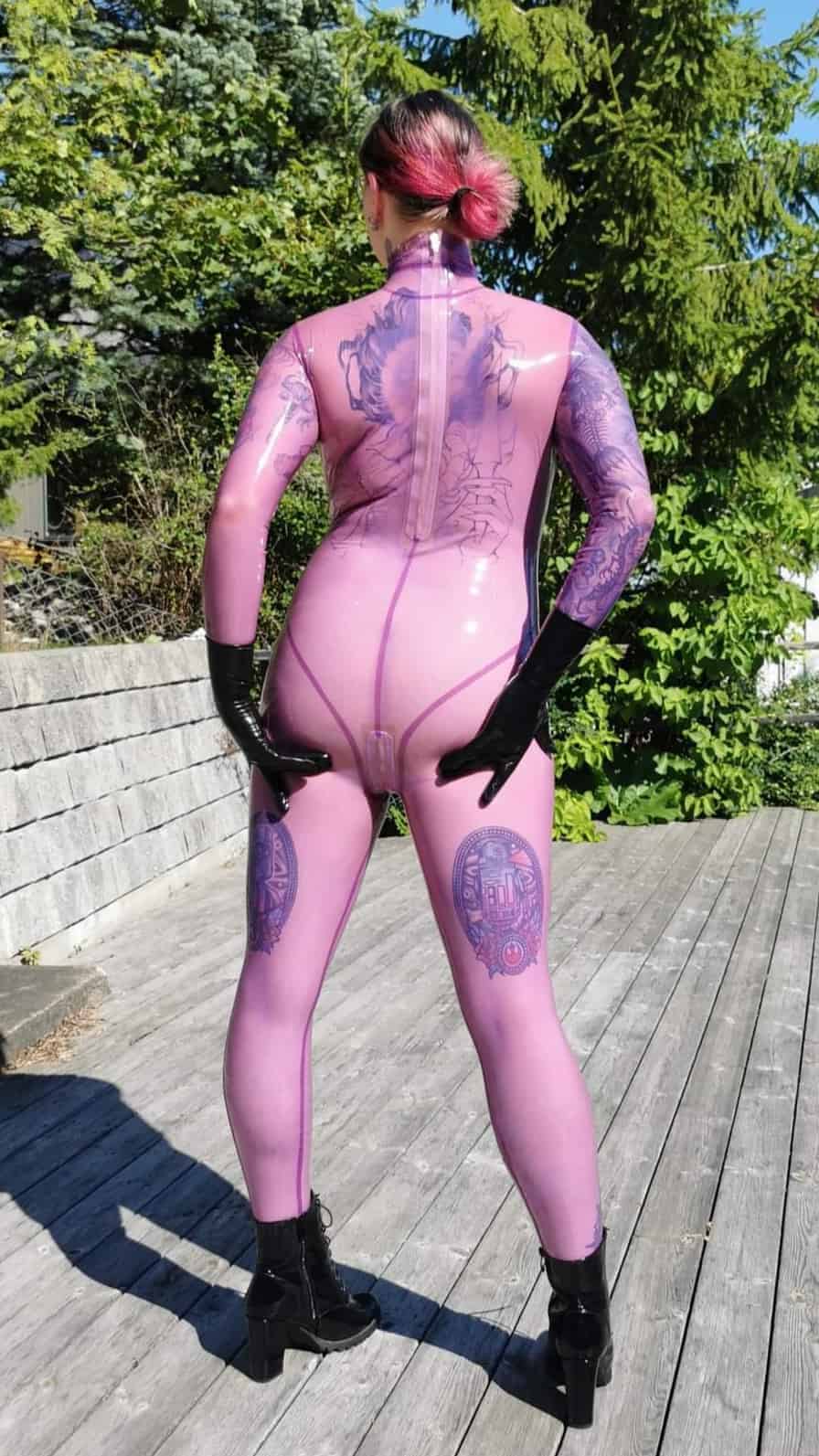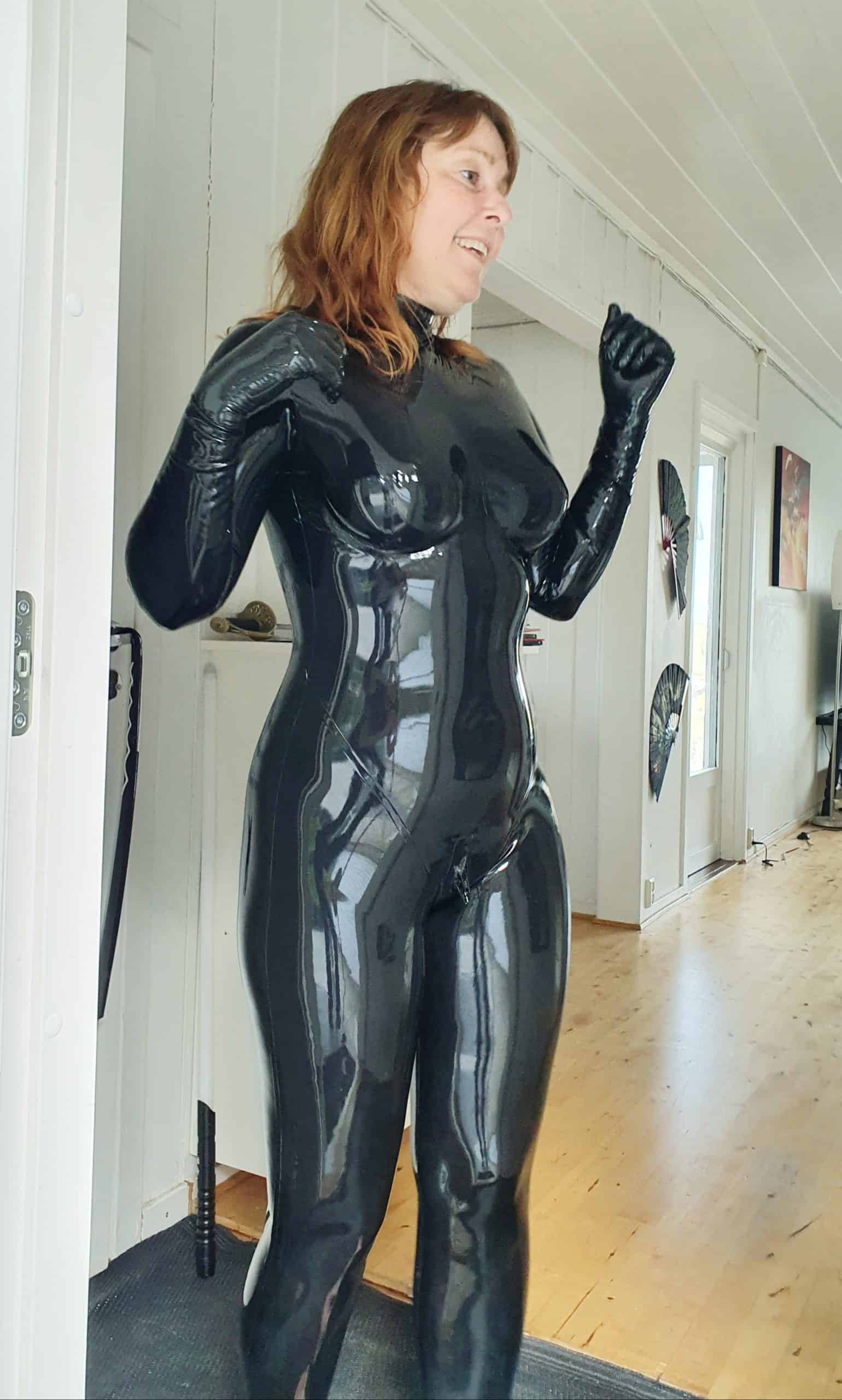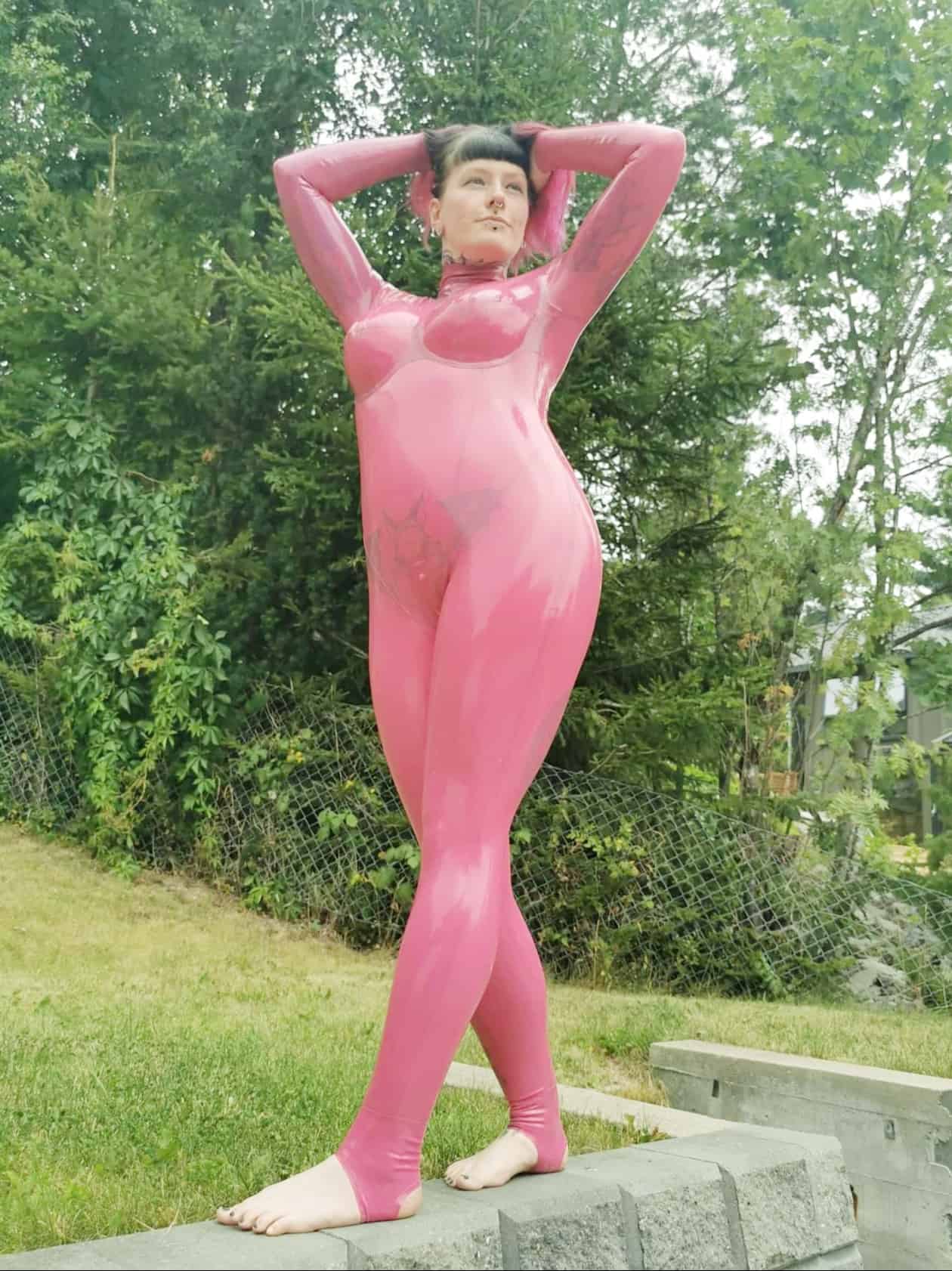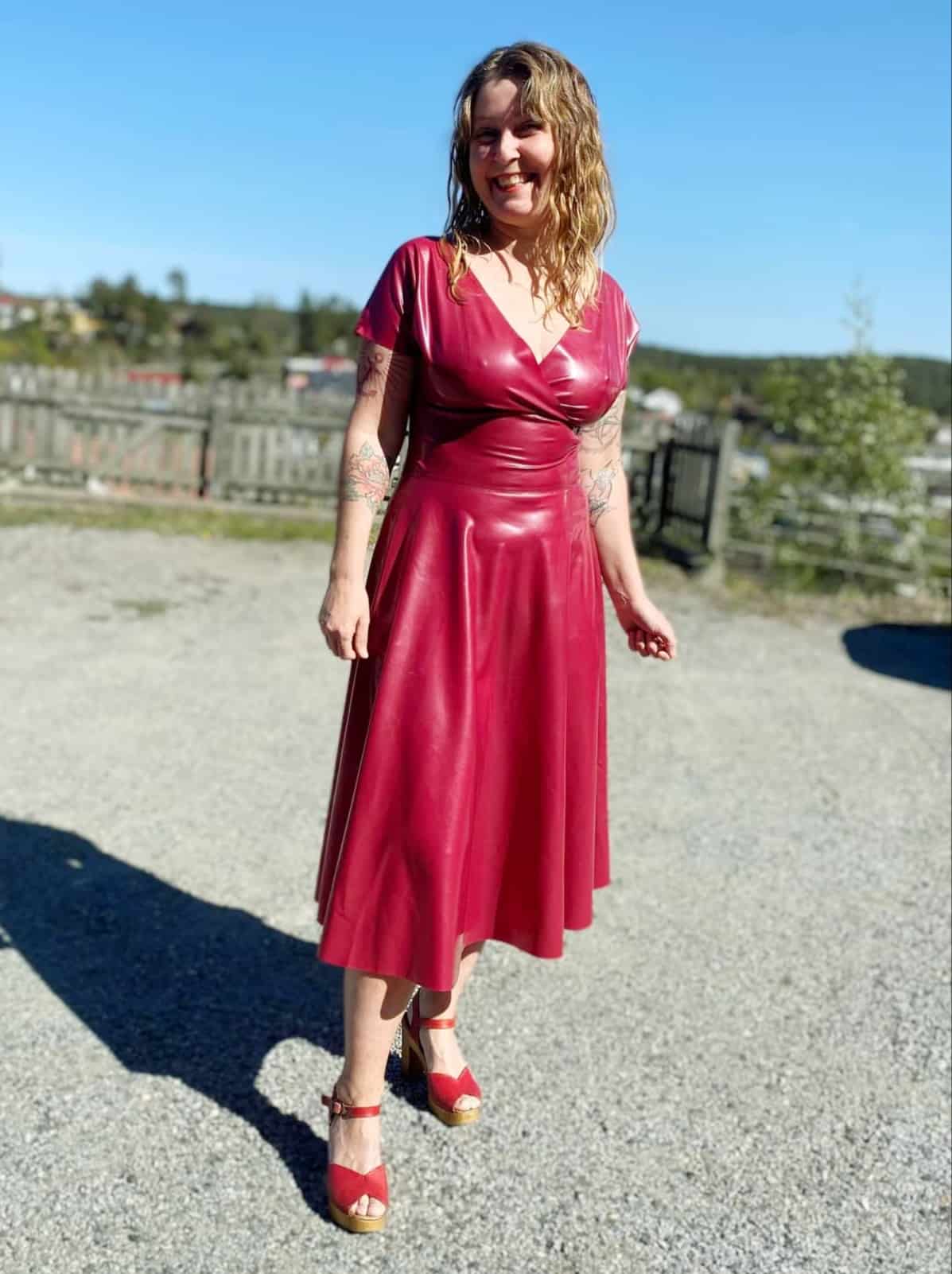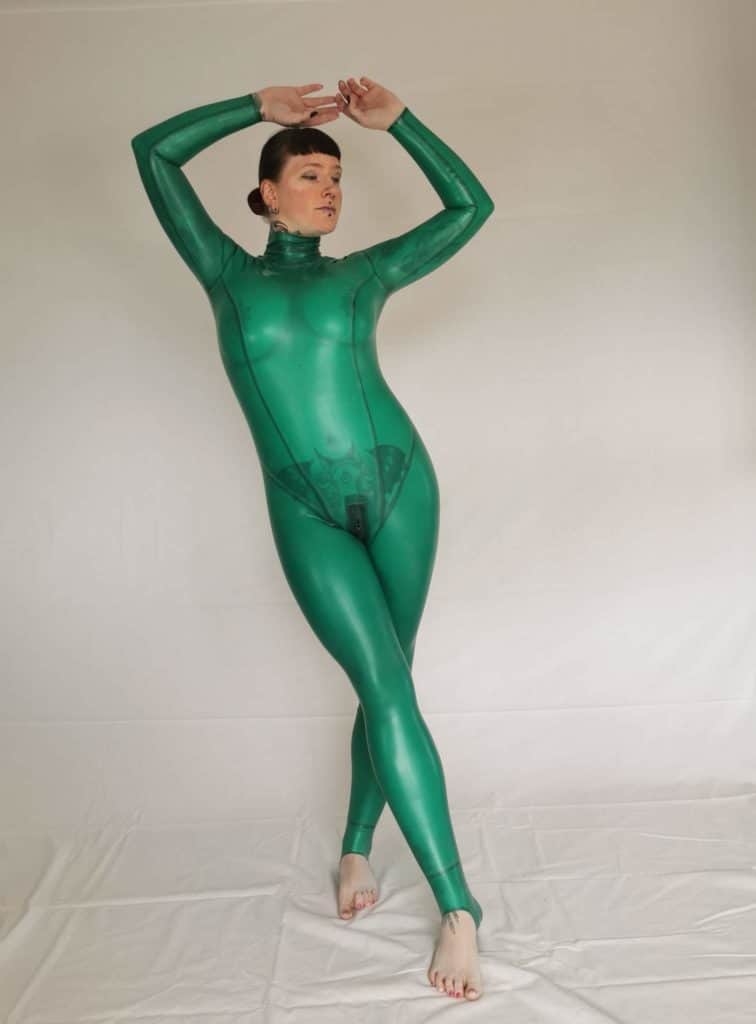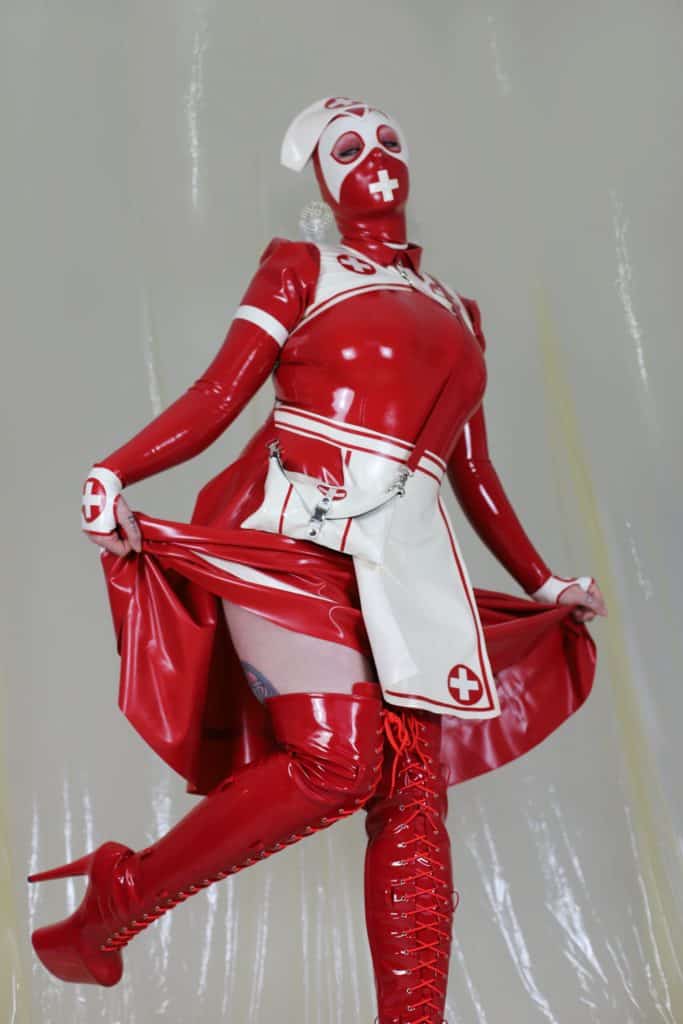 WORKSHOPS – CORSETS, MASKS, DRESSES, ETC
I do various workshops on corsets, masks, dresses, and more. These workshops are designed to be more accessible than the catsuit workshops as they only last two days instead of seven days, require less work area, and the garments are easier to make compared to catsuits. To ensure a personalized experience, each workshop typically has four to six participants. I do these workshops on a fairly regular basis and promote them on Fetlife.com.